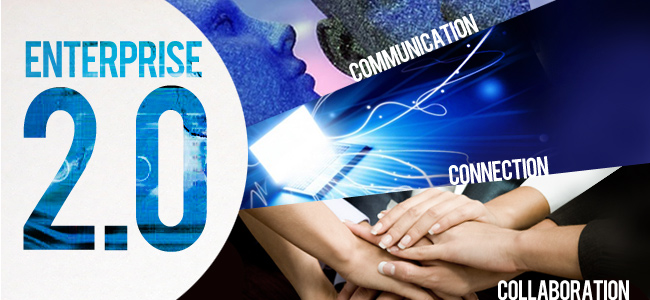 Challenges and Missed Opportunities of a Traditional Enterprise
Enterprise 1.0 (enterprise with a website whose purpose is solely eCommerce transactions and/or content consumption) websites exist today for the primary purpose of revenue generation. The revenue streams are usually in the form of eCommerce transactions, service subscriptions, ad-serving, etc. Each of these revenue streams is made possible by leveraging individual or combination of factors like, but not limited to:
user engagement
customer satisfaction & loyalty
brand awareness
product ideation, and
relevant ad-targeting
How about building long-term brand viability and affinity? How would word of mouth propagate? How would the enterprise understand and cater to its customers' needs?
Suffice it to say that the more users the site can attract, the longer they stay, the more they click, the more revenues the site generates. BUT Enterprise 1.0 users come and go. Upon the completion of a transaction or consuming product information, users don't have any reason to remain on the site. Rich content increase site stickiness, which increases user engagement, but site metrics like Page Views, Unique Users, Time on Page, Impression, Session Duration, etc. do not grow exponentially. In other words, the ROI on online marketing spend does not increase easily.
SO WHAT NOW?
Enterprise 2.0 Solution
Enter Enterprise 2.0! Keep in mind this concept has been around a few years now, but the application and optimization of Enterprise 2.0 we see in many companies today leave much to be desired.
How is Enterprise 2.0 different from Enterprise 1.0 websites? The key difference of Enterprise 2.0 websites is that connection, communication and collaboration (3 C's) of constituents within corporate intranets and extranets are enabled through today's prevalent social media tools. By harnessing the power of these social inter-activities across users, marketers are able to achieve HIGHER returns FASTER and CHEAPER.
How is this possible? The answer is surprisingly obvious, yet many marketers still need convincing due to lack of exposure in this arena. The key lies in providing the right environment for promoting the 3 C's through the power of social media tools. The right environment is having an optimally configured Online Community Platform on which the constituents are allowed free generation and exchange of information with one another; that same platform is setup to also promote the growth and connectivity of users. This would result in a virally growing user-network with exponential increase in user activities leading to higher engagement, stickiness, sales conversion, etc., all of which ultimately lead to achieving a marketer's ROI.
A Simple Example -- Relevance of Online Communities to Business Growth
Enterprise 1.0:
John shops frequently on CrazyBikes.com. He navigates, buys, and leaves. He wonders:
What would my buddy Kevin think of this new shock absorber? How would I recommend it to all my biking buddies?
How do I gather my buddies or other interested buyers to buy the shock absorber at a group discount?
How would I provide my product feedback and collaborate new ideas with other enthusiasts or the manufacturer?
How do I get regular updates and information about new products? How do I organize a meetup for like-minded folks?
What other cool products are in the market; what is the "in" product for biking enthusiasts in London or San Francisco?
When would Trek have special discount on their products? When and where is their next New Product Expo?
Enterprise 2.0:
Through Enterprise 2.0-enabled CrazyBikes Community, John now has answers to all the above questions. He is able to:
Sign into CrazyBikesCommunity.com using his Facebook Login, and instantly sees all his Facebook connections who are also members of CrazyBikesCommunity.com. He is instantly connected and can easily form interest groups as well
Invite other users, growing the network exponentially
Share ideas, product feedback, and arrange meetups and group buying with his circle of bikers
Access information on the latest products/trends, expo details
Get exposure to relevant marketing promotions through ads served by the site
The longer John spends on the site, the more engaged and connected he gets, and likewise for his buddies. That's the power of Enterprise 2.0!
Undeniable Business Benefits
Below are some metrics from a recent industry research conducted to measure the ROI of enterprise and medium-sized companies on having optimized online communities:
26% increase in website sales
27% increase in new customer sales
42% increase in customer communication
34% increase in product feedback
33% increase in customer satisfaction
Are you a believer now? Questions? Comments? Thoughts? Let's hear it!
Dennis Wong is a 17-year high-tech veteran with 12 of those years served in the eCommerce industry. He held various senior management roles at eCommerce titans like eBay/PayPal, Alibaba Group and Yahoo!. He currently serves as VP of Business and Partnership Development at sambaash (sambaash.com), a fast-growing private company that offers industry leading SaaS-based Online Community products. The products combine social media, community modules and collaborative economy functionalities that enable organizations to quickly create and nurture purpose-built and secured social communities.